Posted on Fri, Jun. 11, 2004


Go-Getters
These local mothers of invention are seeing household needs and building a better cake cutter, or buffet tray, or beach towel...
By Diane Goldsmith
Inquirer Staff Writer

You're at a party and doing the usual juggle: plate of food in one hand, drink in the other - standing, sampling, sipping, and schmoozing at the same time.
If only you could grow another hand...
Consider the Buffet Genius, from Wilmington-area housewares juggernaut Debbie Meyer. The Genius is a kidney-shaped footed tray that will secure a plate and a drink; its vertical column for silverware extends underneath to form a handle.
Three thousand sets were snapped up in a matter of minutes when it debuted on QVC last month.
Buffet Genius is the 11th new product from Meyer, better known for her multimillion-selling Kake-Kut'rs, which you can find everywhere from supermarkets and upper-end department stores to Target and Wal-Mart. In their most popular form, they're essentially two wide knives joined to form a "V" for slicing neat servings of cake without touching it.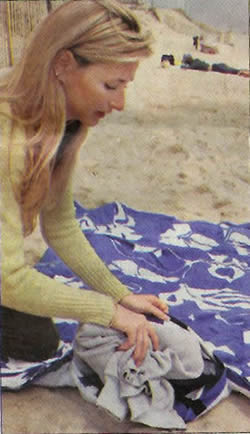 Low-tech yet ingenious. Words that could also describe a product created by New Jersey's Tina Marie Connors.
Towel Down is a beach towel designed to stay put in the wind (thanks to corner pockets you can weight with sand). It also conceals valuables and converts to a tote bag or backpack.
The product, still in the early stages of its launch, has done well online and reaped exposure at entertainment events and trade shows, said Connors, at 39 a relative newcomer to the entrepreneurial game.
Both women exhibited earlier this year at the International Home & Housewares Show in Chicago, and demonstrate how much opportunity there is for the inventively inclined, said Debbie Teschke, spokeswoman for the sponsoring trade association. "If you come up with an idea that offers a solution, you can be very successful with your product."
Yes, indeed. Meyer says her Housewares America corporation could rack up as much as $60 million in sales this year, between QVC, infomercials, catalogs, retail stores, and online offerings. Products include the origami-like Fancy-Foldz pre-folded napkins, Sheet Hearts to keep restless sleepers' bedcovers in place, Shoe Bees shoe coverings to protect floors and carpets, and Kake-Sav'rs to vacuum-seal baked goods so they last longer.
Still more are due this year.
A small Everywoman-type photo of Meyer, 53, appears on her packaging for stores. Like a latter-day Betty Crocker?
"Betty Crocker wasn't real," says Meyer, who worked as a merchandising executive for a large cosmetics firm before meeting her husband, South African-born entrepreneur Neville Meyer, in New York 25 years ago.
"He needed people to run his businesses," says Debbie, who did market research to determine how best to target consumers for his travel accessories and auto-seat covers. All of which proved invaluable after she gave birth to their son, David, 13 years ago, and as a stay-at-home wife and mother had time to develop a long-percolating idea of her own.
"I never liked it when people would touch a cake and lick their fingers and I'd be the next person to get a piece," she recalls.
So seven years ago, Meyer began making drawings and had a metal shop rough out her idea for a cake cutter. After considerable Internet research, she and her husband found a knife factory in China to fabricate samples. Then, the tough part began.
Cake cutters went back and forth to the Far East a few dozen times for the better part of a year to get just the right weight, springiness, blade and handle thickness.
An initial investment of a little over $100,000 also included having molds made, a first run of about 1,000, and a small ad in a Parade magazine direct-mail piece. Its aim: to see how consumers would respond.
"It was overwhelming," says Meyer, noting that she and her husband repeated the ad a few more times to take in wider geographic areas.
When the product appeared at the 1999 International Housewares Show, it caught QVC's attention. Several months later, Meyer demonstrated it over the shopping network and sold an amazing 10,000 sets in six minutes. (A second cutter is squared off to cut sheet cakes.)
"They saw it go into the cake," Meyer recalls, "and after the first slice came out, the numbers started to fly."
The Meyers have since moved to this area from Connecticut so Debbie can be closer to QVC. After all, she has showcased her products in more than 100 on-air appearances.
---
Tina Marie Connors may have less merchandising and marketing experience than the Meyers. But she honed a sharp business sense during her years on the New York Mercantile Exchange.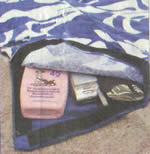 She's also very determined, a quality she needed to make it as a petite woman in that "grown man's locker room," as she dubs the exchange.
Eight years ago, she married a fellow trader and they bought a home together in Point Pleasant, N.J., from which she now trades S&P 500 futures.
But the idea for Towel Down predates her marriage. It occurred as she was lying on the beach one day, trying to relax. The wind blew her towel, and as she threw sneakers onto the corners, she knew there had to be a better way.
"I bought a sewing machine and washcloths, some towels and Velcro, and made it myself," she says. Then she visited an attorney, who helped her get a patent.
The head portion of the 40-by-70-inch cotton velour towel is a double-chambered pocket you can stuff with sand to use as a pillow, or to stow things.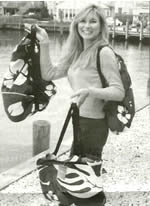 Pull the towel through the head pocket and you've got something for carrying beach/yoga/baby gear, you name it. Velcro tabs enable you to attach towels to form a blanket.
"You can use it for tailgating parties, camping, hiking," says Connors, who two years ago spent $10,000 to $15,000 to produce enough inventory to get her foot in the door at a major licensing show. To date, she has invested $30,000.
"I haven't been on the plus side yet, but I may be after Trump pays me," she says, referring to the Trump Plaza Hotel & Casino in Atlantic City, which is using Towel Down as a promotional gift in July.
A year and a half ago, Merrill Lynch purchased 350 towels as corporate gifts. Towel Down also was included in gift baskets for the Screen Actors Guild awards show in February and the MTV Video Music Awards Latinoamerica show in October.
It has been sold at www.beachstore.com since Christmas 2002 and is considered "one of the performing products," says CEO Eytan Benzeno. "It's definitely one of the most popular towels we offer in that price range" ($39.95).
Which is not to say everything has gone smoothly.
A buyer for a big catalog said she wanted to order a half-million towels. "When I called her," Connors says, "I learned she had left the company."
And there have been unfortunate lags in getting answers to e-mails sent to the factory in China because of the time difference.
But Connors, who is thinking of offering a low-end and a high-end version of the towel, has reaped contacts for new manufacturers and gotten closer to a licensing deal.
"Another phone call, another contact," she says. "That's what each day is."
File last updated 06/11/2004 at 16:39:01
Entire contents copyright ©2004 by Coast Star Newspapers, Inc.
All rights reserved.